Lea Di Salvatore
⭐ ⭐ ⭐ ⭐ ⭐
Positive: Professionalism, Quality

We are foreigners and we were prepared for the worst, given what they say about letting agencies in the UK... But that was not the case for Saint Property, and especially Jade. She was very helpful and we had no problem at all, she managed to find another tenant before the end of our contract (we had to move due to Covid) and we left everything in order and had no problem with the deposit. If you go there I recommend you look for her, she is very very good!
António Costa
⭐ ⭐ ⭐ ⭐
Positive: Professionalism, Responsiveness, Honest, Great communication

I am a former tenant, and I left the property about 1 month ago. I was a bit scared regarding the check out, because of the bad ratings but I was positively surprised. In less than one month Saint Property Service returned almost the entire value of the deposit. They only discounted 40,00 as they suggest the house wasn't cleaned. Well, I received the house totally dirty, but, as I didn't want to argue, I accepted. Also my last report regarding the Hob not working, wasn't attended.

I recommend this agency and suggest Alex / Curtis as point of communication.

Thanks.
Pon Ramya Gokul
⭐ ⭐ ⭐ ⭐ ⭐
I just want to say a big heartfelt thanks for the service from Saint properties , with special reference to Jade. She's an amazing person. Knows the right details not just about the house but of the locality as well and helped us process things in a very professional manner. On the whole we were pleased with Jade's service in helping us chose the house!

Thanks!!
We rented with Saint We rented with Saint for nearly 6 years. During that time whenever there was a problem they went above and beyond to get it sorted as quickly as they could. We have only left our lovely little flat because we have purchased our own house.
So we just wanted to say thank you for going above and beyond to make renting a happy time.
Thank you and all the best to all at Saint.
6 AMAZING benefits of owning a detached house
When it comes to selling a house, a detached house is always preferred. But why is this, and what is a detached house?
Today we will be identifying what exactly is the draw to owning a detached house and why detached houses for sale are becoming increasingly popular.
What is a detached house?
First of all, let's establish what a detached house actually is. A detached house is a house that is completely separated from any other houses. Meaning that it is free-standing with no part of it even touching another house.
This differs from a semi-detached house which shares a wall with one other house.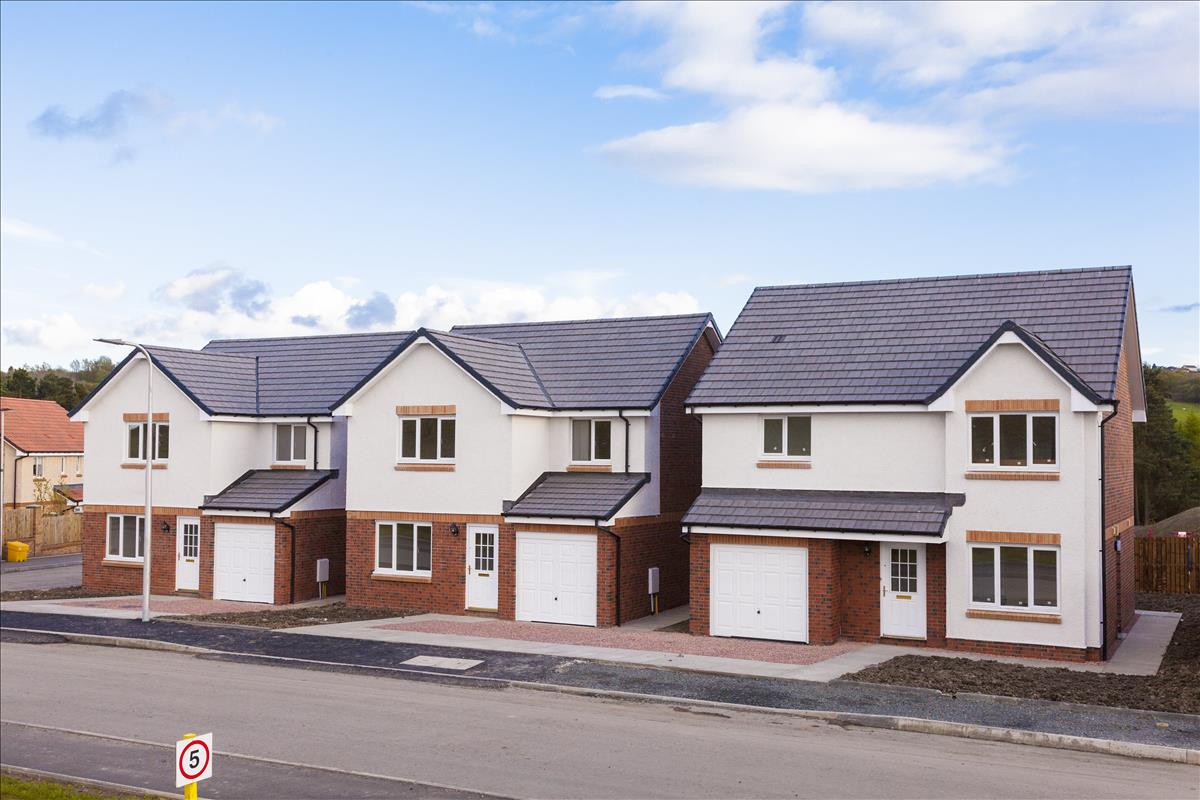 Let's jump into the benefits of owning a detached house…
1. Detached Houses offer Privacy
What is a detached houses number one benefit? Perhaps the strongest benefit of owning a detached house is the absolute privacy that comes with it. I'm sure many of you will understand the pain inside when you're trying to sleep and the next door neighbour starts blasting their music. By owning a detached house you remove the dread of being woken up at 3am by Oasis next door.
Owning a detached house also gives you the breathing space to play your music at whatever time suits you without having to worry about your neighbour being woken up.
2. Freedom to extend and renovate your detached house
Have you ever felt like your house needs something more to it, perhaps a new bathroom or a new bedroom? Living in a semi detached house would present countless obstacles when it comes to the renovations you desire. Perhaps your neighbour will be unhappy with the noise of the construction, or maybe the ideas you have would impede on the neighbouring house's land.
Owning a detached house removes these issues and gives you the freedom to renovate and extend your house to your own heart's desires.
3. Kerb appeal that comes with a detached house
When it comes to the attractiveness of a house, it's
kerb appeal
is essential. It's often difficult to judge the attractiveness of a semi detached house due to the fact the house isn't really it's own entity.
It's all well and good if your semi-detached house looks amazing, but what if the house it's connected to is hideous? You can't exactly knock on your neighbour's door and ask them to make their house look nicer.
This is why owning a detached house is such a benefit. Your house's appearance isn't being dragged down by another's which looks awful. It stands on its own two feet and can be judged on its own merit.
This also comes in handy if you plan on selling your house. You won't need to angle your photos to remove the house beside yours. You can give your house the full limelight it deserves. For help in maximising your land,
check out this page.
4. More Inside Space with detached houses
Typically, the size of a detached house is much greater than that of a semi detached house. With this, comes many benefits, one of that being the extra space to yourself.
Not only will you yourself be able to sample this valuable space, you have space to cater for your family and friends whenever they come over to visit. They will get the privacy they need
Owning a detached house comes in especially useful with families who have children or grandchildren. Kids will have the freedom to explore the house and have the privacy to play in their own space.
All of this will create a feeling of joy whenever friends or family come over to your house to stay. They will feel your house is as much of a home to them as it is to you. The only problem will be having to eventually get them to leave, which they obviously won't want to do!
5. More outside space
Another of the novelties of owning a detached house is the likelihood of having more garden space. Obviously it's no guarantee that you will have extra garden space when owning a detached house. But normally detached houses do.
In case you've never seen a garden before, gardens provide homeowners with the freedom to build, plant and grow anything (within reason of course). So if you ever wanted to have your own vegetable patch or plant a tree, now you can.
This also comes in handy with families with kids or pets. They will have the outdoor space to release their energy.
6. Option for a basement or an attic
Yes it's true that many semi-detached houses or even terraced houses have their own basement or attic. However, the implementation of a basement or attic in a terraced or semi detached house can be a nightmare for homeowners. This is due to the fact that you will need to inform your neighbour of any plans you have. You will also have to form a
party wall agreement
with them.
Owning a detached house bypasses these issues as you will not need to inform your neighbours of any plans you have, nor will you need to arrange a party wall agreement. You are free to expand without the concern of any of your neighbours.
So there you go, 6 benefits to owning a detached house. If you're planning on buying, selling, or just looking for property advice,
contact us
and we'll give you the help you need. We're here to help you find the perfect
detached house for sale in Nottingham
.
7 Christmas House Decor ideas you NEED to know about
Last Christmas was tough. Not only did we miss out on seeing our families and friends, restrictions stopped us from being able to decorate our houses to their full potential. That's why we've gone all out to provide you with 7 Christmas house decor ideas, including personalised Christmas decorations to bring your Christmas back with a bang!
Here's what they are…
1. Go BIG with the Christmas house decor
Most people often opt for traditional sized objects when decorating their homes for Christmas. However, we believe this is a mistake and causes you to miss out on some exciting Christmas house decor.
Instead of using standard sized decorations, why not bring in oversized personalised Christmas decorations? Perhaps a massive hanging snowflake or even a table full of tall candles. This utilisation of varying sized decor will create a sense of child-like wonder and bring you back to how you felt when you experienced Christmas as a kid. Let's be honest, who doesn't want that?
2. Use a colour scheme for each room
This Christmas house decor idea is a personal favourite of ours. By utilising this strategy, you can evoke a sense of wonder each time you enter a new room.
To action this, simply decorate each room with objects and furniture of a chosen colour or two. Perhaps for one room you could fill it with an abundance of red tinsel, red cushions and red snowflakes. The next room could be filled with a blue rug, blue tinsel and blue baubles.
You could even take this a step further by incorporating some LED lights to match the chosen decor. This will really bring home each room's personal colour identity.
3. Personalised Christmas decorations: create your own Christmas tree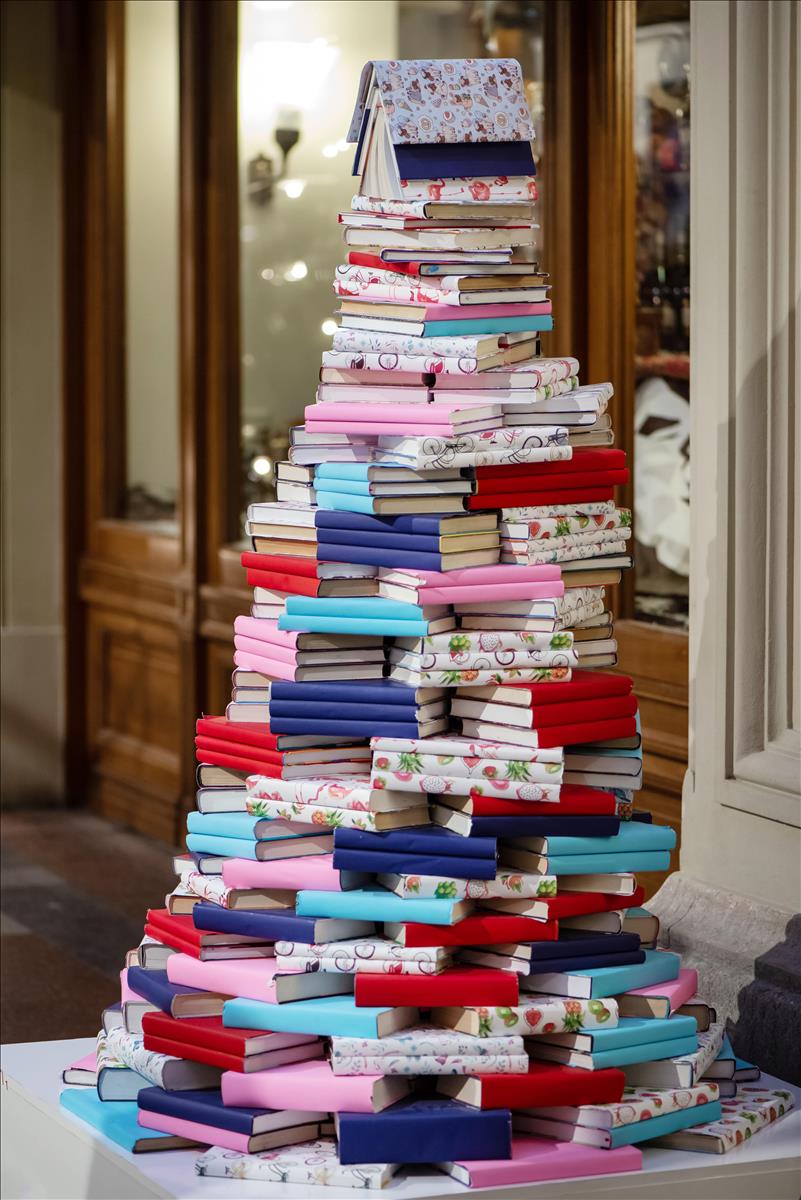 If you're like me, your house is filled with what feels like millions of books, most of which you have never read. If so, fear not!
Gather every book you can find into one spot. Next, stack these books on top of one another into the shape of a Christmas tree. The image above should give you an idea as to how this will look when complete.
This Christmas house decor idea works if you're looking to spice up your traditional Christmas tree or simply don't have the motivation to go out and buy a Christmas tree for this year.
This idea also works well as a fun project to undertake in the lead up to Christmas.
4. Decorate your plant pots
On average, Brits spend
£77.90 annually
on Christmas decorations. This Christmas house decor idea is filled with huge festive spirit at a minimal cost!
I'm sure many of you will have gardens filled with plant pots you don't know what to do with. This Christmas, these plant pots may come in handy.
To create this amazing Christmas decoration, simply find an empty plant pot to use. Fill this plant pot with garlands of pine, then cover with lights and any other decoration of your choice.
You'll find that this simple addition will work wonders in bringing the festive spirit!
5. Paint your Christmas tree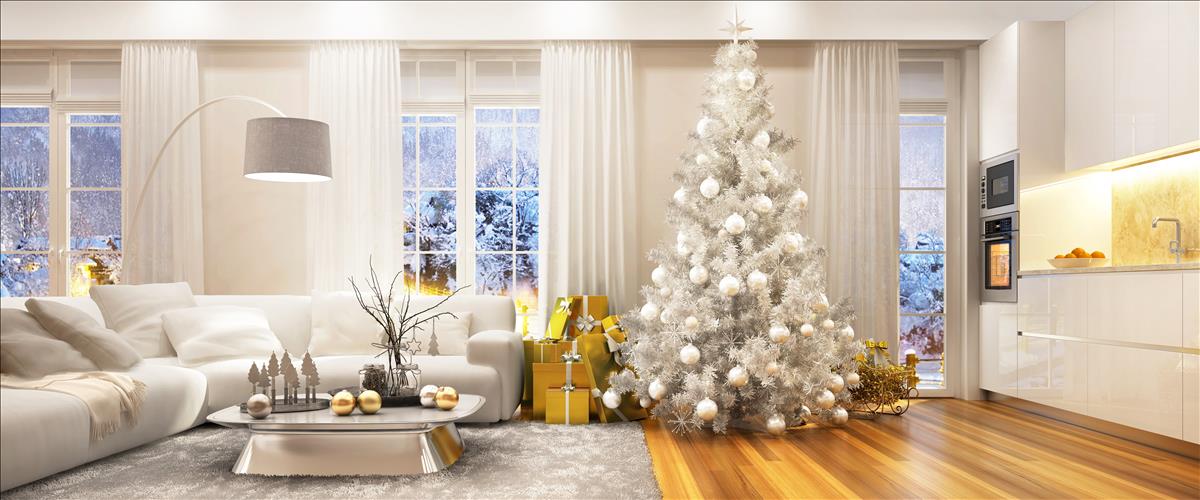 This may sound like blasphemy but hear me out! By painting your Christmas tree you are giving it a new lease of life. Upon entering a room with your new look Christmas tree, a feeling of festivity will be conjured inside of you.
White seems the most logical colour to go for when painting your Christmas tree. But why not be brave and opt for a bolder colour, red perhaps? Or even paint your tree multiple colours, the possibilities are endless!
6. Fill your room with candles
Candles are a staple of most households at Christmas. However, most households don't utilise the impact of candles to their full potential.
This Christmas, I encourage you to align multiple areas of your rooms with a selection of candles. Not just any candles, but a wide variety of candles ranging from different sizes and styles.
Coordinating candles in this way will create a sense of warmth and excitement to your rooms that will significantly add to the festive spirit.
7. Bring nature into your home
Now I'm not recommending you go out into your garden and fetch a handful of soil, but certain plants and other environmental objects can work wonders in achieving a festive spirit. For instance, you could overhang your bannister with a small pine branch. Or display some pine cones around your rooms to spruce them up.
You could even go so far as to plant your own array of small trees, displaying them in plant pots on shelves or on the mantelpiece.
The utilisation of nature in these ways can give you a sense of the outdoors while inside, without bringing the cold in with it!
So there you go. These Christmas house decor ideas and personalised Christmas decorations will be the perfect antidote to the disappointing Christmas of 2020 and give you hope that the festive spirit is not lost!
Further Reading:
Nottingham's Most Exclusive Neighbourhoods
As more and more people have acclimatised to remote working, we've seen a boom in people looking for homes outside of busy centres like London. The Midlands has been a particular favourite for many as the central location offers great connectivity to major transport links, convenient travel times, and all of the modern conveniences we've come to enjoy, without a London price tag.
Even with everything that Nottingham has to offer some areas command a higher price than others. We're going to take a look at some of Nottingham's most exclusive neighbourhoods and why they are so popular.
What is the baseline?


On average, properties in Nottinghamshire sold for £221,000. These prices are well below the
country average of £332,000
making a move to Nottinghamshire an attractive proposition for young professionals and families. This average price reflects a steady increase in values too with sales prices across all forms of property (flats, semi-detached, and detached homes) increasing by 12% proving that even at these affordable prices there is plenty of room for your property value to grow. The neighbourhoods below are examples of what happens when a great location and a healthy property market meet.
What are Nottingham's most exclusive neighbourhoods?
West Bridgford properties for sale
West Bridgford and expensive properties are one of Nottingham's worst-kept secrets. Ask any local 'where is expensive to buy' and chances are they will mention the premium prices that come with a West Bridgford postal code. This neighbourhood sits just south of the river and is conveniently placed about a mile from the city centre. This proximity to the city makes West Bridgford a bustling neighbourhood with plenty to keep you busy but far enough away that you can find opulent detached properties and contemporary apartments.
This area is also home to several upmarket restaurants and boutique shops and is right around the corner from major sporting venues. The southern location also makes this region great for commuters as you can hop on the A52 without having to go through the city. What's more West Bridgford has excellent schools and a lively calendar of community events to add to its charms. With this in mind, it's little wonder West Bridgeford's average property price is £363,021.
Properties for sale in The Park
The Park is a private residential estate that is instantly recognisable with its Victorian architecture and amphitheatre-like layout. Centred around the Tennis Club at the bottom of the valley, stately properties ring around this area with some originally built back in the 1840s. The most surprising part of The Park is that it's right next to town, a mere 15-minute walk from the centre itself and a 5-minute walk from Nottingham Castle.
These incredible properties are also surrounded by tree-lined streets and interesting green spaces further adding to the bucolic peace and quiet of this private residence.
Being so close to the city centre means a move to The Park gives you access to everything the city has to offer. Two world-class universities have campuses dotted around the city, a network of trams, buses, and trains, and of course, the thousands of shops, restaurants, bars, and businesses are just the tip of the iceberg with a vibrant cultural scene and annual events adding to this mix.
Most properties in The Park are larger detached properties and this is reflected in the average price. According to the latest figures, properties in this area sold for £443,272. This is almost double the average for Nottinghamshire as a whole and shows how exclusive this neighbourhood is.
Houses for sale Beeston
A neighbourhood that many may be surprised to see in this list, Beeston was recently noted for having the most expensive road in Nottingham (according to 2019's figures). Beeston Fields Drive had an
eye-watering average price of £850,000
. This impressive figure is by no means the largest with larger properties in Nottinghamshire often going for millions of pounds but the fact that the entire street had an average more than three times the Nottinghamshire average shows how valuable properties in this area can be.
Beeston's location near the city, University of Nottingham, and Wollaton Hall make it a fantastic location for families, students, and landlords looking to build their portfolios. This area is well connected to the city by bus and tram and has its very own train station for commuting further afield. If you take a drive through the town you'll find more affordable homes nearer the High Street and the town itself with larger detached family homes on the outskirts (especially bordering areas like the Beeston Fields Golf Club).
Beeston is also an exciting choice for
letting properties
with links to the city, university, and major roads making it a great choice for long term investment. As such it has become a hit with property owners looking to live or let leading to some very healthy gains on property values. House prices in Beeston averaged out higher than the average for Nottingham at £258,470.
Homes for sale Edwalton
Edwalton is another suburb south of the city bordering West Bridgford and Gamston. This area is renowned for having some of Nottingham's most expensive properties with streets like Valley Road, Croft Road, Melton Road, and Village Street all boasting properties that go for over a million pounds.
This small neighbourhood has a range of different property types, most built in the post-war era (the 1950s). Edwalton's access to schools, shops, main thoroughfares, and the nearby West Bridgford gives homeowners plenty of amenities to use right on their doorstep. The proximity to the city is in that sweet spot between city living and suburban living giving you the benefits of both.
With several million-pound properties skewing the numbers it's little wonder that the average house price in Edwalton is £468,057. The relatively small area and larger properties mean that whenever a home goes on sale in Edwalton chances are there is going to be plenty of competition.
The City Centre
Last, but not least, Nottingham City Centre can be an exclusive neighbourhood to try to move into, especially when looking at the size of properties in the city. Given the built-up city environment, buying a property with room to grow can be costly. Detached properties in the city centre for example sold for an average price of £685,000. Exclusive properties near The Park; along Park Terrace and The Ropewalk, are somewhat responsible for these prices with modern apartments aimed at young professionals on the riverbank also making for attractive investment opportunities.
The draw of Nottingham City Centre is that it's large enough to give you a busy city life but small enough to still feel personal and friendly. Impressive historical buildings and rich culture and history add to this feeling while the central location of the Midlands makes it an easy commute to Leicester, Derby, Birmingham, and Lincoln. Nottingham is also a popular stop on many train routes providing even more connectivity between Nottingham and major hubs like London, Manchester, and Liverpool. Add to this; countless amenities like schools, shops, gyms, galleries and shops, and it's easy to see how the City Centre can be a huge draw for those looking for an exclusive address.
If you're interested in finding out more about
properties for sale in Nottingham
or are interested in letting a property then please
contact us today
. Our team works with customers to offer an unparalleled level of service combined with expert advice and all-important local knowledge. Give us a call now and we'll help you find the perfect neighbourhood to call home.